A PHOTOGRAPHIC WALK IN THE MOST BEAUTIFUL CITY IN THE WORLD
Couple Photoshoot Venice!
Amazing !!! Great Experience
The Pictures are so romantic ! Thank you !
We loved the photos and the video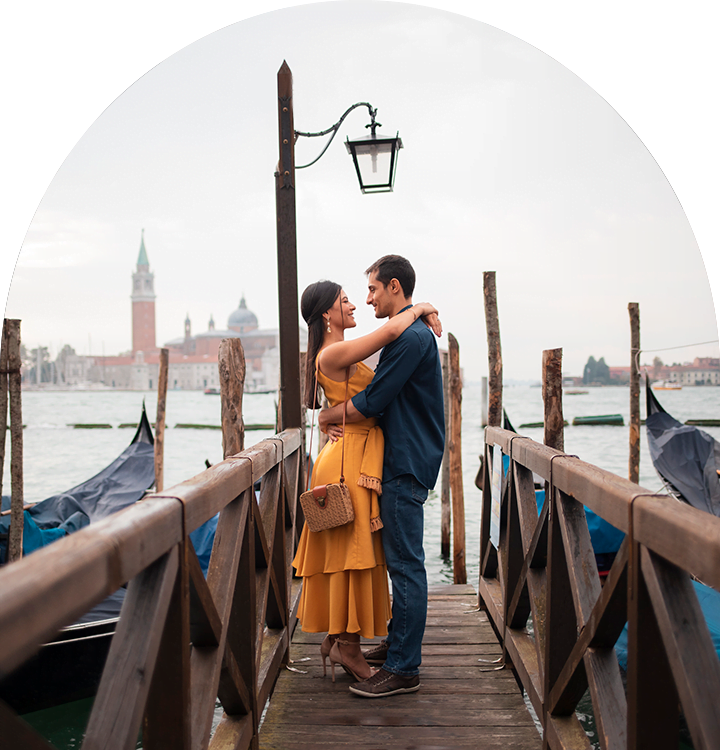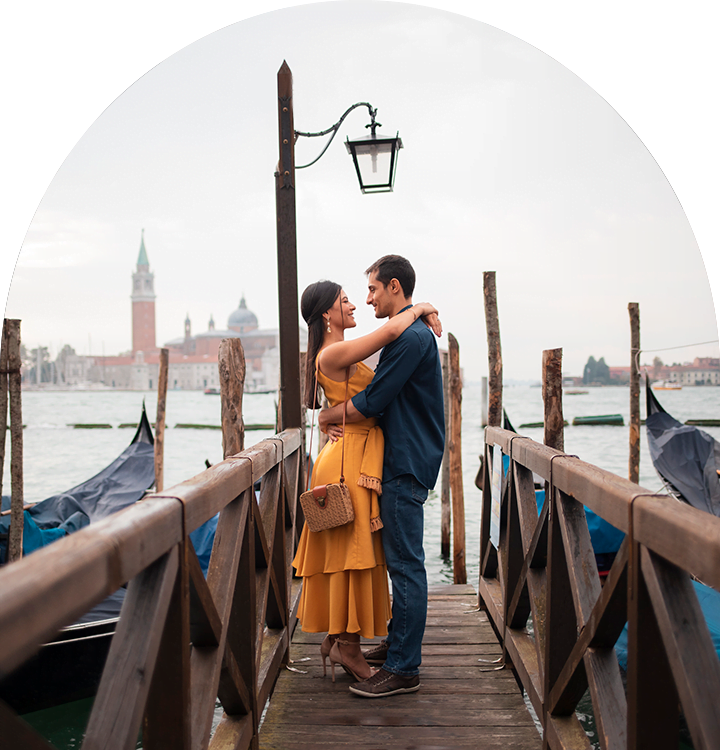 VENICE PHOTOGRAPHIC EXPERIENCE
I will guide you in the best places to take unique picture of the most beautiful tourist landmarks. I know the best timing to avoid the crowd and the best hidden spots that only a local could know.
It's a PRIVATE (couple, family, solo) photoshoot experience in Venice, I'll guide you through these iconic attractions: St. Mark's Square, Doge's Palace, the Bridge of Sighs and possibly Rialto Bridge. We can also take a gondola, depending on the service you choose.
No more relying on strangers or friends to take pictures. I capture you at your best! It's my pleasure to help you with good posing tips. You can also customize your shooting experience and ask me for special requests.
The same day you will receive a preview of three pictures, and within 5 days I will send you the very best images from your shoot , I'll deliver your photos beautifully edited at no additional or hidden charge.
IN SUMMARY:
1. we will meet at the agreed location
2. we will take both posed and candid photos of you (duration 1 hour or more)
3. in 24h you will receive 3 preview pictures
4. in 5 working days you will receive your edited images and a free online gallery for 3 or 6 months
You can download the number of pictures from included in your service for free, from your online gallery, addictional photos, prints, album can be purchased directly on the website.
Early morning is the best times to start. Venice is one of the most visited city in the world so the streets can get extremely crowded, especially during the weekend! Early morning is also the greatest time to get the best light of the day, especially in St.Mark's Square.
I don't want to tell you what you should wear, I want you to express your personalities. I suggest you to talk with your partner and match your colours in a good combination. Strong colours make you stand out in photos, pastel colour are softer but still amazing !
Comfortable shoes are the way to go! In Venice we walk from location to locations, so if your feet are comfortable you are comfortable.
Do not bring big heavy bags for the shoot. Carry with you the bare minimum. I want you to be relaxed and not worry about leaving your valuables on the ground.
Wind and some light rain do look amazing in photos! But, in case we get caught up in some heavy storm we can take cover for a few minutes and have a cup of coffee, or I'm happy to move the shooting time, or reschedule for another day, depending on my schedule.
If your cancellation is at least 24 hours in advance of the programmed starting time, you will receive a full refund. If your cancellation is less than 24 hours in advance, you will pay the full the amount.